Episodes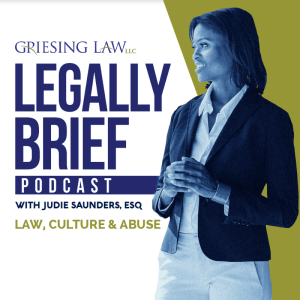 Tuesday Oct 12, 2021
Tuesday Oct 12, 2021
Legally Brief Presents... The Series: "How to Make Our Institutions Work"
Corporate change agents, disruptors, and survivors want institutions plagued by discrimination, harassment, sexual and political abuse to stop, listen and reform.
Are institutions unable, unwilling or indifferent to change?
Institutions are not dead lifeless brick and mortar structures.  At their heart, our judicial, corporate, educational and religious institutions are made of living breathing human beings. 
So it goes without saying that identifying, correcting and halting institutional abuses benefits everyone.
Join me as Legally Brief begins a new series discussing "How to Make Our Institutions Work" for us.
The Legally Brief series will show how using the "ACTIVE" method can change systems that abuse power and violate trust.
Sharing is a Good Thing!!! You know a parent, athlete or friend that can use the information in this episode, so go ahead, and social share the link...
Don't forget to download this episode.
Subscribe to the show on Apple Podcast, Stitcher or your favorite platform.
Tune into the Legally Brief Youtube channel.
Visit jsaunderslawfirm.com for the free "Parent's Guide to Surviving Your Child's Abuse."
Follow me on Instagram here.
This podcast is for informational purposes only.  Nothing in this podcast is legal advice, counsel or guidance. No offer, statement or representation has been made to serve as your attorney in any capacity.   No attorney-client relationship has been created. This information is general and may not be applicable to your particular circumstances. You must review your particular circumstances with a licensed attorney.